Cod Fish Fillet Tail Part / 鳕鱼尾巴 (+/-20% Glazing)
 Cod Fish Fillet (Tail Portion)
"How back end tastes like "
The Cod Fish Fillet (Tail portion) ('ikan kod', 鳕鱼尾巴: 起肉) is the terminal meat section of the cod fish.
Cod fish usually comes by slices, here's for you to savour the filleted meat.
Besides the meat, get to enjoy the extended cod fish skin too!
Source: 
Imported. Chile
Taste:
Pleasant

. Bold
Texture:
Soft

. Medium . Firm
Baked Cod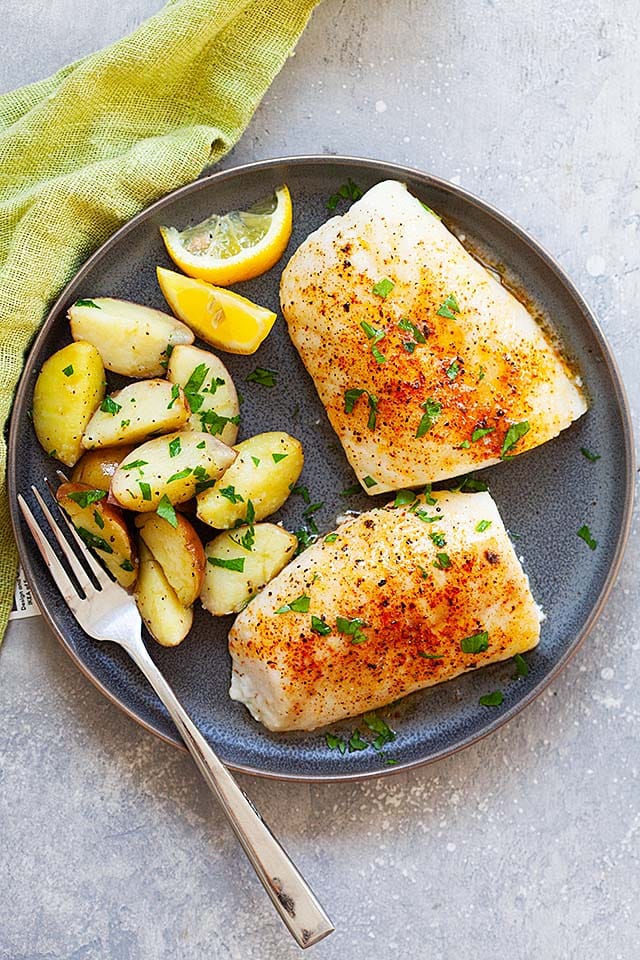 👨‍🍳👍:
 Steam, Sear, Sauté, Fry
🍽:
 100g – 300g /pax
Nutritional Facts (per 100g)
| | |
| --- | --- |
| Calories | 211kcal |
| Protein | 19.2 g |
| Fat | 10.84 g |
| Carb | 8.25 g |
Notes:

*This product may contain scales. Ice Glazing
*NO customised cutting available.
*Whole fish:
There will be a reduce in gross weight by 10% - 20% after processing.
*Others:
There may be a reduce in gross weight by 3% - 5% after processing, unless otherwise stated.
General Defrost Method :
Kindly immerse the seafood in water to defrost. Time needed to defrost depends on the seafood sizes. Defrost up to 80% and you may start cooking.
Most of our seafood are scaled, gutted, and cleaned prior to flash freezing, hence they are sensitive to temperature changes.

1.  Small Size Fish - Around 10-15 minutes
2.  Large Size Fishes (above 800g) - Around 30 minutes
3.  Fish Fillets or Steaks - Around 15 minutes
4.  Prawns or other Shellfish - Around 10-15 minutes.
5.  Otak-Otak - Solely for this product, there is no need to defrost. Just cook them directly.
6. Others - Please refer to instructions on packaging / product description / chat with customer service.
Please prevent over-defrost as it will greatly affect the quality of seafood.
Special notes for most Local Wildcaught fishes:

After scaling and gutting, there will be a reduce in gross weight by 10% - 20%
去鳞取内脏后,海鲜的重量会减少10% - 20%
Wild Caught from Kuala Selangor to Sungai Besar 野生捕捞
Scaled, Gutted and Vacuum Packed Individually 去鳞, 取内脏和真空包装
Flash Frozen to preserve the quality of Seafood 速冻以保存良好品质
Recommended to consume within 2 weeks 建议两个星期内食用